Everyone knows sun sails keep you cool and look great. However, your new sun sails from Shade Sails Online can do so much more. Explore our full range of shapes, colours, and sizes. You'll find so many uses for our deluxe shade sails, you'll want even more!
Evening & Night-Time
Pair creative lighting with your new custom-made shade sails to create a vibrant space for evening use. Maximize the glimmer of twilight by partnering porch shades in multiple hues and fabrics. The setting sun will generate an alluring glow as it filters through your shade sail. Enjoy dinner by candlelight under your backlit shades. Soft or twinkling LED mini-lights turn your sunshade into an evening paradise. Create a romantic ambience perfect for outdoor dining, strolls, or dancing. By themselves, shade sails create the perfect shelter for watching fireflies, stargazing, or simply stealing away for a chat.
Keep the party going later with bold coloured shades and direct lighting. The light passing through your shade sail canopy will scatter to create a party mood. Moving or flashing lights can be used with your sun sail to create a colourful kaleidoscope effect for dancers. Set up a shade sail over live entertainers or use several to create a darkened backdrop for outdoor movies. Spotlighting will trasform your shade sail into an eye-catching display for outdoor concerts and events. Don't forget extra shades to protect refreshments from falling leaves or debris.
Beach & Pool
Whether you're working on your tan or having the whole group over for a pool party, sun sails from Shade Sails Online liven up the atmosphere.
Reduce harmful UV without chemical sunscreens. Our custom-made sun sails reduce ultraviolet exposure, making swimming safer. Try draping and positioning sails for a beautiful sun-and-shade effect. Our shade sails filter the sunlight, giving a warm glow perfect for the beach or pool area. Keep swimmers safe without sacrificing the bright, cheery mood. Our shades come in a variety of beautiful colours, including beachy hues. You're sure to find the right ones for your beach or pool area. We even offer custom-built sun sails that fit perfectly wherever you need them. Feel the warmth of sunbathing without the fear of getting burnt or needing dangerous sunblock. Swimmers can stay in the pool longer without needing to reapply sun lotions.
Little ones love spending time in the water. Next time you go to the beach, set up a solar sail or two to cover the splash zone. Kids will feel special while staying out of the damaging rays. Shade sails also provide a nice spot to cool off after being out in the hot sun. Establish a home base on the sands where your group can take breaks. Host ocean-side viewing or a beach reading zone away from direct sunlight by layering and positioning multiple sails. Our sun shades can also be used to keep families and large groups together during outings to the sea. Bright colours can be seen from a distance, so all the friends and relatives will know where to meet. Planning a cookout? Our shade sails can be installed in just a few minutes. Provide the cook or grill master with a shady place to work. When the food is ready, sails provide cover and a designated picnic spot.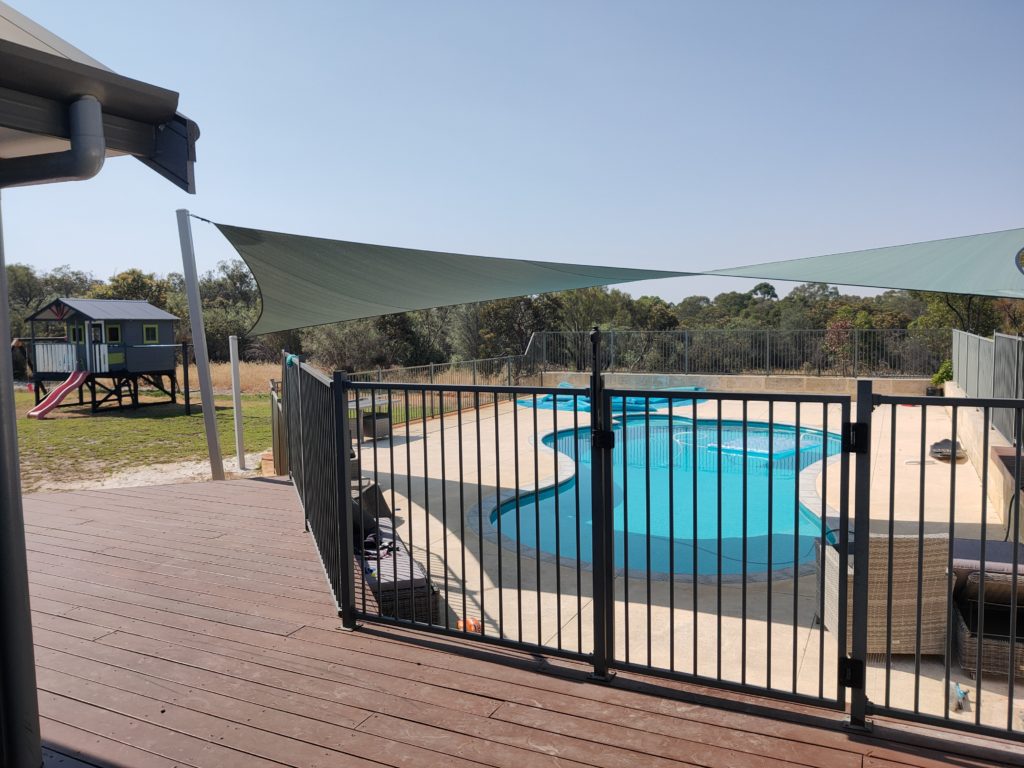 Kids
Nothing brings a smile to a child's face like bright colours. Vibrant sun sails from Shade Sails Online add life and energy to children's outdoor areas.
Pair outdoor play areas with one or more sun shades to keep kids safe from the sun. Bold, colourfast dyes create a happy, child-focused play place. Use them in outdoor areas large or small. For parks, schools, and larger playgrounds, layer different coloured sun sails to create a magical effect. You can also set up shade sails to designate play areas. Use different colours to make playground type or age group. In the backyard or garden, attractive shade sails keep little ones out of the hot sun so they can stay outside longer. You'll fuel their imagination with durable shade sails, too. With a sunshade from shadesailonline.com, your little one's sandbox or swing set can become an explorer's tent, a princess's castle, or a sailor's ship. Fuel creative play and joy while keeping little ones out of the heat. Encourage more time in the fresh air without worrying about sunburns burns or UV.
Your playground equipment was an investment. Slides, swings, roundabouts, and rockers should be kept out of the direct sun to avoid fading and damage. Our shades help maintain their look and function so the paint stays vibrant. Shades prevent metal or plastic toys from heating up. This reduces burns or chemical exposure from hot playground equipment. Sun sails also make the playground look welcoming to newcomers and friends. Fly the colours of your local school or choose your children's favourite colours.
Children's parties are enhanced by shade sails, too. Nothing feels more festive than the bright colours of our sunshades. Use pre-cut or customized shades to create kid-safe play areas or outdoor dining spaces. Planning a performance or entertainment? Host it outside in the fresh air while keeping little ones cool. Inexpensive shade sails will make partygoers feel special and add flair to any kid's gathering. Even in cooler months, shade sails feel fun and festive. Use them to keep debris or falling leaves out of your child's play area.
Retail & Sales
Nothing invites shoppers in like a charming, colourful display. You already worked hard to design window displays and showcase your products. Now add patio sails as a welcoming touch. Subtle, sophisticated colours add class and style to upmarket shops. Bright and bold colours make buyers look twice at exciting new merchandise. Place sun sails around the entrance, parking area, or near display windows. Passersby will feel comfortable stopping to take a look. Vibrant shade sails also show that your shop or outlet is open. Pair with signage or change styles seasonally for an attractive look. Shade sails add flair to pop-up shopping events, farmers' markets, beachside stands, and holiday sails events, too.
Hotel & Hospitality
Welcome guests with sun sails and patio shades all year long. Consider shade sails in the parking lot. This colourful marker gives your hotel, inn, or B&B a holiday atmosphere people see upon arrival. Guests will appreciate shaded parking. Our shade sails will keep cars from getting too hot. Shade sails can also be used to designate your valet service or direct guests toward covered parking.
Make the most of sprawling porches and patios with our customized sun sails. Patio shades look beautiful all day long. Host breakfast or brunch under sun shades that match your logo or décor. Concerts, performances, dances, and more look great beneath the flying colours of your shade sails. Create an outdoor concert hall or venue. Our shade sails offer an inexpensive and flexible alternative to pergolas and gazebos. They are easy to put up and remove, and can easily be repositioned based on your needs.
Give guests more room to spread out. Use porch shade sails when hosting events such as conferences, receptions, and live performances. Shade sails can be used in grassy or garden areas to create private niches for conversation and relaxation. They can also signal important features and amenities, such as a pool, restaurant, golf, or tennis courts. If you have the space, create winding walkways and trails. Mix sunny and shady spots, and provide seating so guests can stop for a chat.
Of course, sun shades are a great way to point out ice cream, cold drinks, and other refreshment stands. Draw attention to shops, boutiques, or salons. Our shade sails can be purchased pre-cut or designed specifically for your location. Try matching sails or a range of similar hues to create cohesion. Or, use different colours to help guests map important areas. Reach out to discuss custom designs with our team.
Whether you're hosting an event or simply considering adding shades to your porch or doorway, our team is ready to work with you. Contact us with your ideas and plans. We'll be happy to design custom shade sails for your every need.
Cold-weather uses for shade sails from Shade Sails Online
Most people make the most of their patio and yard in hot weather. That's natural. After all, patios are the perfect place for warm-weather refreshments and cocktail parties. Sunny seasons are also the time to linger by the pool under a UV-blocking sun sail. But you can keep using your shade sails from Shade Sails Online all year long!
Create a year-round garden
No matter where you live, there are hearty plants that can grow in your environment. With a little planning and some shade sails from Shade Sails Online, you can create a beautiful garden to enjoy no matter what the temperature is outside.
First, designate an area and set up your garden. You may need to kill grass or existing wild plants. Mark, dig, or trowel a square or rectangular area, or make a sloping, curving garden that fits your yard style. Consider adding fresh soil or fertilizer. You may want to consider a raised garden or use fill like rocks, sand, or woodchips. Some people like to add borders or pathways. This keeps the garden looking neat.
Next, choose plants that are a right fit with your temperate zone. To determine your zone, check out these maps or research your climate zone. Find plants, flowers, grasses, or herbs that will grow at different times throughout the year. Make sure to opt for some that bloom at cooler temperatures if your area experiences cold weather. Also keep in mind issues such as droughts, flooding, and weather conditions year-round. Make sure you choose plants that do well with the kind of rain (or lack thereof) you get. You can research garden looks online or come up with unique combinations yourself. Innovative pairings and groupings will make your garden original.
Plant your new plants and flowers. There should be directions attached regarding spacing and depth. Arrange larger plants toward the back and smaller ones in front. Consider small ground covering, succulents, or grasses in between larger flowers and plants. Vines, bushes, miniature trees, and tall grasses can add height.
Then, drape the garden with one or more sun sails from Shade Sails Online. You may opt for colours that match your house or ones that go with your flower choices. Our sails provide optimum protection for gardens. They can be displayed in different shapes and positions. Allow sun where you want it and shade where you don't! Our sun sails are breathable. They are not waterproof, so your plants will benefit from natural rainfall. Keep plants from drying out or scorching in hot weather. In cooler weather, shade sails provide a comfortable area to stand or sit and admire the garden. The bright colours will point out garden areas during snowfall or heavy rain. Use them to keep pathways and seating clear of debris. You can also arrange shade sails to protect your garden tools and planting equipment.
Create a Boot Removal Zone
Tired of wet, muddy, or snowy boots in your entry or hallway? Sick of cleaning up dirty shoeprints or reminding kids to put shoes away? Our shade sails make a pretty and creative solution.
Simply hang one or more shade sails directly in front of your door or entryway. This will create a protected area for grubby boots and shoe removal. Set down one or more boot scrapers or bottle brush mats. Family members and guests can use these to scrape embedded dirt from their boots or shoes before coming in.
Prefer that no one wears shoes indoors? Follow the boot-scrapers with a large welcome mat or rug where everyone can remove their shoes without getting cold feet. Add an outdoor boot rack or shoe stand where shoes can be kept outside. Or, put a nice wellies rack, shoe cubby, or shelf right inside the door. Don't forget shoe cleaning kits. Bins with house slippers or socks can be provided, too. Have workers or kids frequently coming in and out of the house? Supply slip-in shoe covers under your shade sail to protect flooring and carpet from the elements. You can also store snow shovels, extra mittens, and other outdoor tools under our sun sails.
Host holiday parties
Do your get-togethers ever feel a little crowded? Expand your home by transforming your porch, patio, or yard into an entertainment venue! Cold-weather parties warm up with shade sails from Shade Sails Online.
Drape several shade sails across your patio to create a DIY roof. Filtered sunlight or artificial lighting will create a warm, welcoming look. Add blinking or flashing holiday lights in your favourite festive colours if desired. Your shade sails will add an extra layer of protection while providing a festive feel. Our shade sails also offer protection for outdoor displays, holiday ornaments, or decorations.
Now you can host dancing or meals in cooler weather under a gorgeous sun sail. You can even serve a meal outdoors if it isn't too cold. Too chilly for outdoor entertainment? Covering your porch or patio with shade sails gives you a safe place to move bulky furniture or objects until the party's over. Store frozen or non-perishable food and drink outside to keep it cold.