At Shade Sails Online we have 50+ years of combined experience in manufacturing high quality Shade Sails and have been offering them online to clients worldwide since 2003.
You will no longer need to change your space to fit, with our custom made shade sails, you'll be able to send us your mounting points measurements and we'll create the sail that perfectly fits your garden, sun patio, barbecue or pool area or any public or business outdoor space.
Here's some things to keep in mind when ordering a custom made shade sail from us:
Measuring:
All the measuring is done by you, taking into consideration what you need in your specific space. Please see our sun sail measuring guidelines for obtaining the required dimensions.
All the necessary reductions and allowances for fixings and stretch will be made by us once you provide your measurements.
Pricing:
When you use our easy online shade sail price calculator you will receive instant pricing online for your custom-made shade sail;
The price is calculated based on the size and shape of your sail.
You can provide either metric or imperial measurements.
Delivery is included in our online shade sail prices.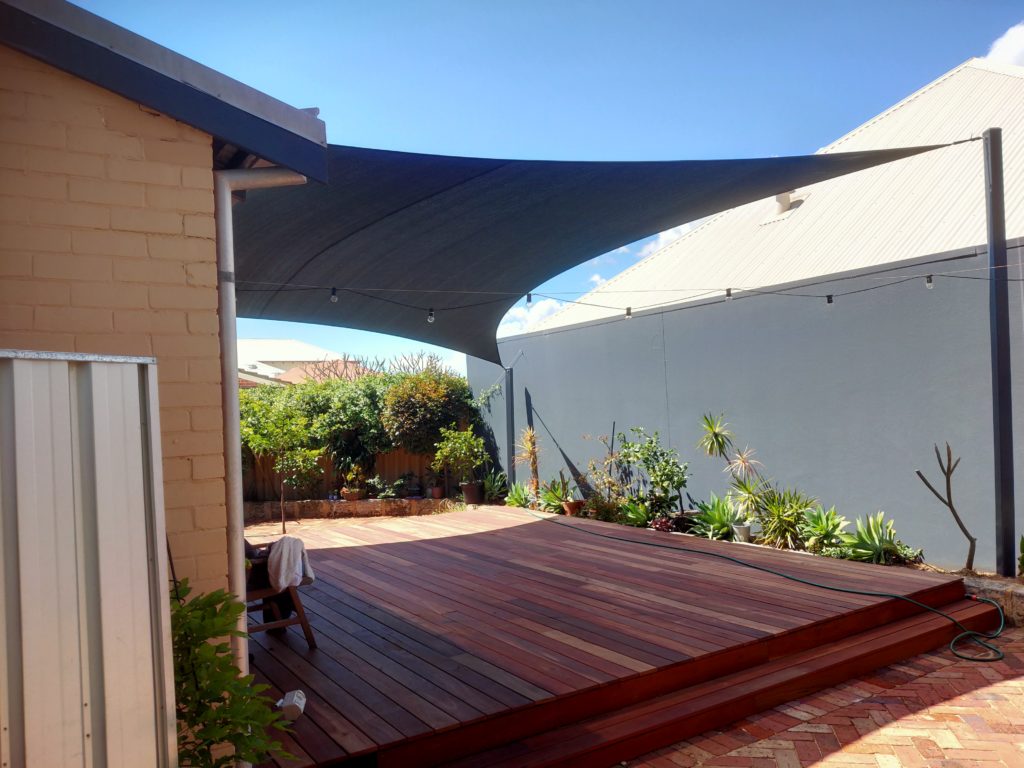 Quality:
We use commercial grade shade cloth to make your custom-made shade sails. It meets the AS4174-1994 standards and the seams are sewn with twin needle stitching;
We hem all the edges of our custom-made shade sails with heavy duty 50mm webbing and reinforce all corners on Shade Sails that are over 25m2;
We use stainless steel rings for the shade sail fixing points that are installed on each corner of the sail.
UV Stabilised Polyester thread is used.
Installation:
We supply high tenacity UV stabilised polyester rope with your custom-made shade sail so you can erect it yourself.
See our detailed Installation instructions to follow and ensure that your shade sail is properly erected to avoid mechanical damage and for the best user experience.
You can also install your sail shade using an alternative method of fixing (e.g. shackles, turnbuckles, chain or other). If that's the case, please clearly indicate the length of your fixings (by measuring turnbuckles half-way closed and open) in the additional comments field at checkout so we can take this into account when making your shade sail.
Any other questions you may have you can also address in the comments field at checkout or contact us – we'll be happy to help you and ensure you have sent us the right measures and will be installing the sail in the recommended way to avoid damage and ensure a long life.
Design:
All our shades are made from high quality commercial grade materials and are aesthetically pleasing
You can choose from a wide range of colours
Depending on the colour, you'll be able to see what are the cover and shade factors and the UVR and UVE % which ultimately will give you an indication of the level of effectiveness offered by each colour.
If you need advice on how to select the shape or size to make the most out of your outdoor space while keeping it looking its best, then you can contact us. We'll be happy to share our experience with you and talk to you about the pros and cons and the factors you'll need to consider, regardless of whether you're a private home owner, a business or an organisation. We have manufactured thousands of sail shades in all shapes, sizes and in many unique spaces, so you can trust us to offer you the best advice and put forward a solution that will work for you. We can also discuss cleaning and maintenance, especially if you are not planning to use your sail shade all year round, but only during the warm season.